From the beginning, Tindie has been dedicated to building a community to support hardware creators and enthusiasts. In 2012, the most immediate need was a place for makers to sell their hardware creations to like minded enthusiasts.  

Every day we help new projects come to life, and witness the struggles of businesses behind them.  We get emails like this one from a PhD Candidate at UCLA-
We have designed a wearable board and sensor around the neck, however we are requesting quotes for a design manufacturer, or a hardware company that can build and design the final product.

Let me know if you can help, or know of anyone that can help.
We hear stories of makers paying $20k for introductions to manufacturers or a startup losing $100k to middlemen that never produce. The truth is that there are countless stories like those. 
There has to be a better way. You shouldn't have to fly to Shenzhen or pay tens of thousands of dollars to find the best manufacturing partners. Fundamentally we don't believe startups and inventors should have to pay to find great manufacturing partners. It should be as easy as finding the nearest Starbucks. This is why we launched Tindie Biz!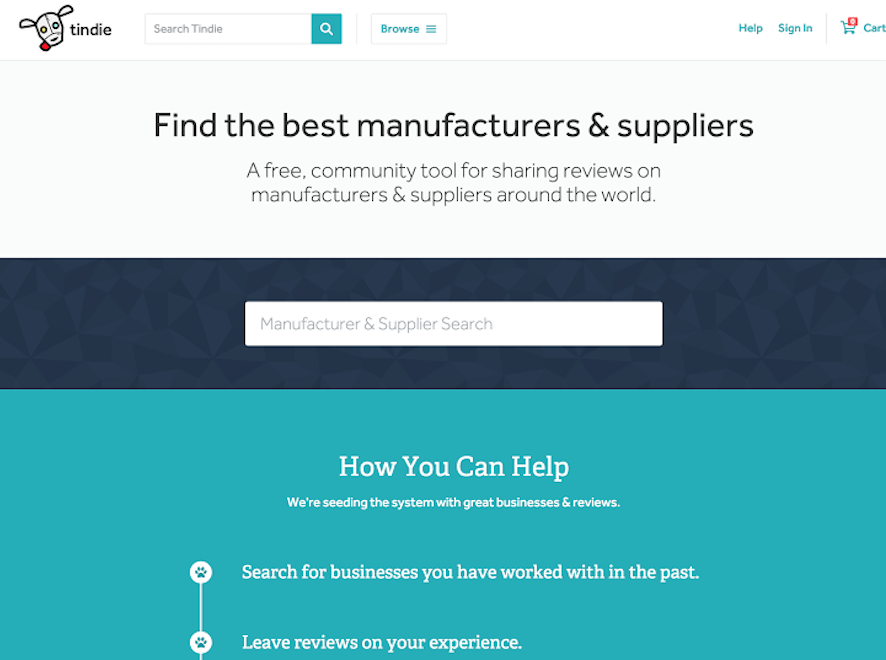 Tindie Biz is a free, community tool for finding and reviewing the best manufacturers and suppliers around the world. An open platform for the community to find great businesses others have used in the past with open collaboration and transparency at the community's fingertips. Soon you'll be able to freely find the best injection molders in Michigan or top LED suppliers in Shenzhen with a simple search. 
We're crowdsourcing this problem and turning to the community to help us. The process:
Search for a business
- If we have it, great! Please add a review of your experience
- If you don't, please add it and leave a review.
Once we have sufficient number of reviews, we will be fully opening the platform for free use.
No subscription fee

No cap on searches

No ads or sponsored results